Biography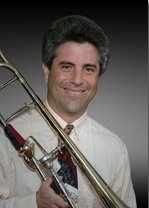 James T. Decker is Associate Professor of Trombone at Texas Tech University, Principal Trombonist and Personnel Manager of the Britt Festival Orchestra, trombonist with the Texas Tech University Faculty Brass Quintet, Principal Trombonist with the Lubbock Symphony and Music Director of the Texas Tech Trombone Choir.

Prior to his appointment at Texas Tech, Mr. Decker was Principal Trombonist with the Honolulu Symphony, Lecturer of Trombone at the University of Hawaii at Manoa and Director of the Manoa Trombones.

James studied at the Juilliard School, under the tutelage of Edward Herman, Jr. He received both Bachelors and Masters Degrees in Performance from that institution in four years.. In addition, James has earned a Masters Degree in Music Education from Herbert H. Lehman College, a division of the City University of New York.

James has studied with some of the finest wind and brass pedagogues, including Joseph Alessi, Steven Norrell, Vincent Penzarella, Jerome Callet, Keith Underwood, Arnold Jacobs, Edward Kleinhammer, Frank Crisafulli, John Swallow and Edward Erwin.

Mr. Decker is one of the most versatile trombonists in the world today. He has played virtually every style of music that includes trombone.

As a classical and orchestral trombonist, James' performing ensemble credits include the New Mexico Symphony, Tucson Symphony Orchestra, Cascade Festival Orchestra, Santa Fe Pro Musica, Colorado Music Festival Orchestra, Abilene Philharmonic, Maui Symphony, Hawaii Opera Theater Orchestra, National Repertory Orchestra, Spoleto Festival Orchestra, Stamford Symphony, Greenwich Choral Society Orchestra, and the National Orchestra of New York.

James has significant experience in the brass quintet arena. In addition to his tenure with the TTU Faculty Brass Quintet, he was trombonist with the Honolulu Brass, a major chamber ensemble which performs an extensive schedule of recitals, clinics and educational concerts throughout the Hawaiian Islands. He has also performed several seasons with Artist International's Eroica Brass, Cosmopolitan Brass of New York, and the Grammercy Brass.

Mr. Decker's experience as a jazz trombonist is quite extensive. He has performed with such greats as Wycliffe Gordon, Jim Pugh, Bill Watrous, Diana Krall, Chris Botti and George Shearing.

As a commercial trombonist, James has performed with Michael McDonald, Al Jarreau, Toto, Ray Charles, Burt Bachrach, Toni Tennile, Kenny Loggins, Lou Rawls, Sammy Davis Jr., Natalie Cole, The Temptations and Christopher Cross.

Mr. Decker is an active recitalist and clinician. He has performed and taught at many locations throughout the United States, including Boston University, University of Nevada-Las Vegas, Florida State University, University of Wisconsin, Arizona State University, University of Arkansas, University of New Mexico, University of Northern Iowa, Merkin Concert Hall and at Riverside Church. He is a Conn-Selmer Artist and performs regularly on Bach Trombones.

"My goals and aspirations in life are to play trombone as a soloist, orchestral player and chamber musician and to positively influence others both as a performer and educator."